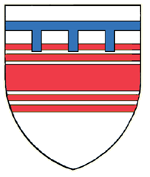 Bartholomew de Badlesmere (1275 – 14 April 1322), English nobleman, was the son and heir of Guncelin de Badlesmere and Joan FitzBernard. He was married to Margaret de Clare - daughter of Thomas de Clare who died in the Battle of Thomond, Connaught, Ireland. His father rose to be Justice of Chester in the service of Prince Edward and died in 1301. Bartholomew de Badlesmere fought in the English army both in France and Scotland during the later years of the reign of Edward I of England. During his lifetime he rose from provincial obscurity to national prominence and then abruptly fell, executed as a traitor; a graphic illustration of the uncertainty of Edward II's England.
Bartholomew de Badlesmere served in Gascony in 1294, in Flanders in 1297, when he became one of Edward I's household knights, and in Scotland in 1303-4. Almost alone among Edward's household knights, he was elected to parliament, sitting at the Carlisle Parliament of 1307.
In 1307 he became governor of Bristol Castle. Edward II appointed him steward of his household. Badlesmere made a compact with some other noblemen to gain supreme influence in the royal council.
Iin 1309 he was granted Chilham castle in Kent, henceforth his principal seat, he also held Leeds Castle in Kent. From then on he attended parliament as a baron. An influencing factor here may be the patronage of the Earl of Gloucester, whose principal retainer he was, and whom he assisted as keeper of the realm in 1311.
The royal grants accompanying Badlesmere's rise culminated in his appointment in 1318 as steward of the royal household, an office of first-rate political importance offering intimate contact with the king. In 1316 the king retained him for life for £400 in peace and 5,000 marks (£3,333) in war, when he was to serve with 100 men-at-arms, and in 1317 added 1,000 marks for his counsel: high valuations indeed for his service.
Although very hostile to Thomas, Earl of Lancaster, Badlesmere helped to make peace between King Edward II and the earl in 1318, and was a member of the middle party which detested alike Edward's minions, like the Despensers, and his violent enemies like Lancaster.
It was therefore entirely logical that in 1321 Edward II should send Badlesmere to persuade the northerners not to join the marcher lords against the Despensers, but Badlesmere deserted and demonstrated his hatred of the Despensers by concocting the false charge of treason against them. His reasons for rebelling are not clear. Certainly the rise of the Despensers to favour with the king deprived Badlesmere of much of his influence. However that may be, the desertion of the steward of his household, bound to him by intimate personal ties, made Edward II into his most vengeful enemy.
That Badlesmere's Kentish lands were isolated from those of the other rebels offered King Edward II the means of revenge. It was probably a deliberate ploy to provoke a crisis that provoked him to send Queen Isabella to Badlesmere's Leeds Castle in October 1321 and, when Lady Badlesmere predictably refused admission, King Edward II reacted to the affront by besieging the castle. Badlesmere's only hope was support from the marchers and northerners, but this Lancaster denied him. Lady Badelesmere (Margaret de Clare) was taken and imprisoned in the Tower of London, a dozen or so of her garrison were summarily hanged. She was later released.
After the defeat of the Earl of Lancaster at the Battle of Boroughbridge, Bartholomew de Badlesmere was captured and hanged, drawn and quartered at Canterbury, Kent on April 14, 1322.
At the time of the baron's execution, upwards of ninety lords, knights, and others concerned in the same insurrection suffered a similar fate in various parts of the kingdom. Margaret, Bartholomew de Badlemere's widow, continued prisoner in the Tower until, through the influence of William Lord Roos, of Hamlake, and others, she obtained her freedom, whereupon taking herself to the nunnery of Minoresses,in Aldgate, London, she had 2 shillings a day for her maintenance, paid by the sheriff of Essex. Subsequently, however, she obtained a large proportion of her husband's manors for her dowry.
His son and heir, Giles, died without children in 1338.
His daughter Margery de Badlesmere married William de Ros.
His daughter Elizabeth Badlesmere, 3rd Baroness Badlesmere (1313-8 June 1356), was married (27 June 1316) to the Hon. Edmund Mortimer, 1st Baron Mortimer (1302-17 December 1331), Lord Mortimer, eldest son of Roger Mortimer, 1st Earl of March and Joane de Geneville, Baroness Geneville. Both were the parents of Roger Mortimer, 2nd Earl of March.
---
Bartholomew de Badlesmere, 1st Baron Badlesmere, is our 23rd Great Grandfather
---
Bartholomew de Badlesmere, 1st Baron Badlesmere on Totally Explained